Private support from alumni, parents, and friends is important to the future success of our students and to all of our academic programs. Here are just a few of the ways your financial support of the School can make a meaningful difference.
Scholarships
The School's academic programs have grown faster than our scholarship opportunities.
Undergraduate Scholarships: the School currently has 400 undergraduate majors and only one undergraduate scholarship
Masters Scholarships or Fellowships: the School currently has over 700 students enrolled in its Library and Information Studies and School Media programs.
Doctoral Fellowships: the School currently has approximately 50 doctoral students who need funds to help support their dissertation research activities.
Named Professorships
Named professorships are used to help retain outstanding faculty by enabling FSU to offer competitive salaries while providing funds to support their research and classroom activities.
Internship Support
These programs provide both graduate and undergraduate students with mentored, real-world work experiences.  Often the right internship can help our students secure their first job upon graduation.
Our Development staff are ready to discuss your plans for supporting the School, or to answer any questions you may have about the potential impact of your support.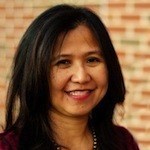 Mafé Brooks,
Director of Development
Mafe.Brooks@cci.fsu.edu
(850) 645-8312